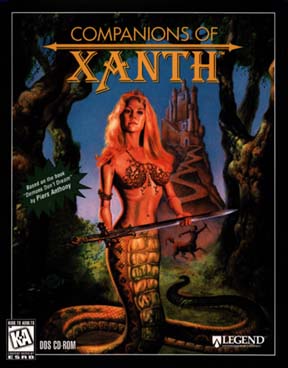 This is a sight dedicated to Xanth® and the Companions of Xanth Game.
The creator of this page is Draco. He is a professional magician of both worlds. Draco in the Mundane world is supported by HMC (Herrick Magic Company) for all of his magic needs. In the Xanth world he lives upon Mount Eatimus whom upon coming to Mundania became a man. You may recognize him as helping Dolph in his quest for the Heaven Cent.
---
You can reach Draco by clicking on the E-mail link above or by E-mailing to: kodraco@angelfire.com
Draco also has ICQ and if you wish to contact him on this please let him know for he rarely uses it. ICQ#: 8553959
---
Xanth is a fantasy novel written by Piers Anthony and to learn more about it you can check out my list of links. There are many other detailed descriptions on Xanth so I will keep mine short.
In Xanth all magic is possible where it is not in dreary Mundania. Xanth is a different realm of existence which lies roughly over Florida. Along with the magic comes a widespread use of puns such as quicksand will make you move quicker when you stand on it and slow sand will slow you down. The books come from the Muse of History whom writes them and they come into Mundania by accident. Since it is one continuous series, the characters are usually derived from the kids of the main characters of the previous book. That by itself helps you feel more connected to the series because you aren't more or less aimlessly wondering around Xanth and its inhabitants.
For further reading (advised) browse through the links to other great Xanth pages.
---
For all you Xanthians or Xanth fans, if you have found an error by Com-Pewter in my pages or would just like to comment, feel free to do so by using my e-mail address or email me saying that you wish to contact me on icq and please leave your number.
---
---
---
All pictures and events on this page have been righted! ®
To use them you must ask permission from Draco© or penalties will apply.
My URL: http://come.to/xanth



I got it for free at http://come.to