This is Draco and I am beyond a doubt one of the most dedicated Xanth Fans ALIVE! This great game is now discontinued and all of the new up and comming Xanth fans will never get a chance to play it. Is this fair?! NO! Xanth needs to be shared and expirenced by all. I own every book (not just the xanth series) and a few copies of the game. Looking for the game? I might know where you can get it. Email me for the link... POSTED Nov 21, 2002. ps. I NEED MORE LINKS! I recieve a cavalcade of visitors daily. If you would like to contribute to the Xanth community please email me a link to your Xanth site for possible membership to the official Piers Anthony Ring. Banner exchange also accepted. Make Sure you Title Your Email "Xanth Link". ALSO!!! LOOK FOR THIS SITE TO GO MACROMEDIA FLASH 6.0 SOON! kodraco@angelfire.com or ICQ 8553959
---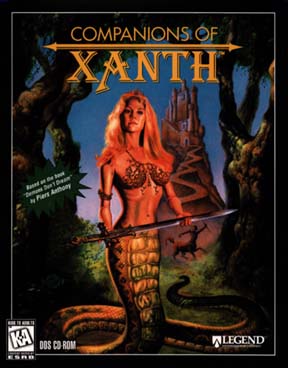 Welcome to the Unofficial home page for the Companions of Xanth computer game. I am trying to get the rights to bring back the game and once again market it. Please consistently check back for success! I know many of you are looking for the game and are finding it discontinued and sold out. I have a few copies and am trying to purchase the right to sell it. To personally help, you can mail me and I will put you on my petition to bring the game back. I may be your only chance so please help!
-Tayloforro Von H.
Xanth is an excellent collection of fantasy novels written by the great Piers Anthony. There are currently 24 books in the series and more being written as you read. This series Xanth has been around for nearly 13 years. I specifically dedicate this page to the exquisite game Companions Of Xanth. This game by Legend Entertainment is based on the Xanth series book Demons Don't Dream. Included on this site are pictures of many Xanth characters along with their domain Xanth. I highly recommend this series to anyone out there whom is not already a strong Piers fan. For further reading on this fantastic series, check out my trusty list of popular links.
If by chance I have used original artwork and have upset someone, please let me know and you will be given your due credit!